Managing your Snowflake Integration
Datameer Administrators can access the Integrations page where they can view, add, and edit the Snowflake integration in their Datameer instance.
To open the 'Integrations' page, click on your user icon in the top right of any page in Datameer and select Admin Panel and then "Integrations".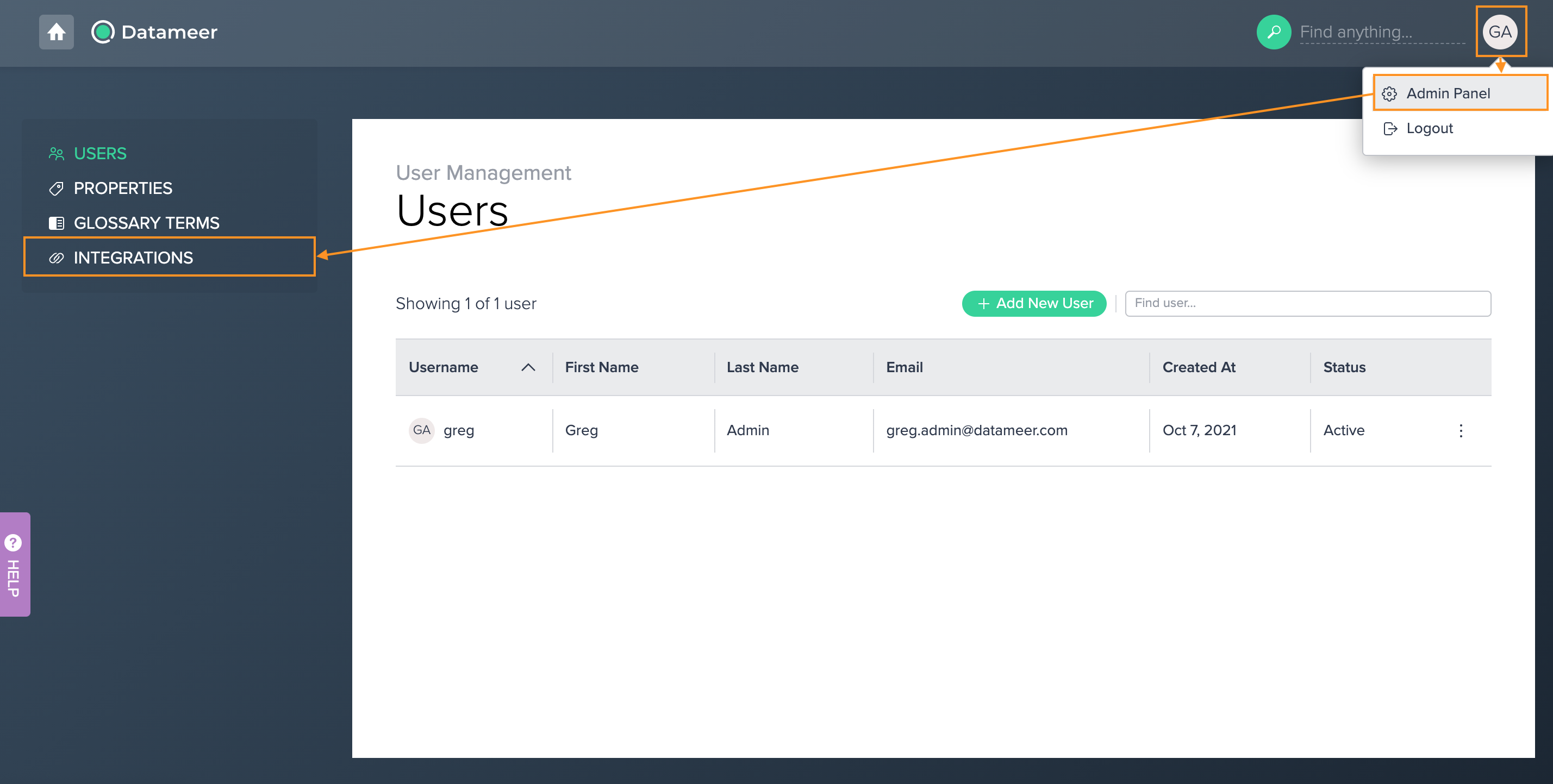 Viewing the Snowflake Integration#
Viewing the Available Datameer Systems#
The 'Systems' list contains all your Datameer systems you created and in which the Snowflake databases/ Schemas are used in. It also shows the number of integrated Snowflake Schemas, in how many Projects the Snowflake sources have already been used as well as the date when the Datameer system was created.
The search bar on the right side allows you to search for a Datameer system within your integrations.
Viewing the Available Datasets From a Snowflake Schema#
You can view all available datasets from your Snowflake databases (Schemas). For that:
Click on the Datameer system name. The Datameer system overview opens. All important information about the Datameer system is displayed in the tab 'Asset'.

Click on the "Open" icon next to the Schema name in the 'Asset' tab. The 'Schema' page opens. All available datasets are displayed in the tab 'Datasets'

Click on a dataset name to view the columns, data preview and more information.
Managing Your Snowflake Integration#
To manage your already configured Snowflake integration:
Click on the highlighted 'System Name' entry, you want to change. The current Schema is displayed. The info tab 'Asset' opens

Click on "Manage Systems". The dialog 'Manage Database (Schema)' opens. All available but unused databases (Schemas) are displayed on the left. All used databases (Schemas) are displayed on the right and labeled as 'In Use'

Select one or more unused databases/ Schemas from the left side, you want to add to your integration and click on the "Arrow to the right" button. The selected databases are added to the used databases.

Confirm your choice with "Done". All selected databases (Schemas) are now integrated to your Datameer instance and can be used in the Projects.
Changing the Connection Name#
You can change the name of your integration by clicking the menu icon on the right side and then select "Edit". The dialog '' opens.

Insert the new name and confirm with "OK". The new name appears in the 'System Name' column.
Advanced Connection Configuration#
You can add advanced Snowflake connection properties to your Datameer system.
To add Snowflake connection properties:
Click on "Advanced Connection Configuration". The dialog 'Advanced Connection Configuration' opens.

Enter your connection property and confirm with "Update". The property is applied.